AC Charging Connector T1V-02
(Conforming to IEC62196-2 Type1 specifications)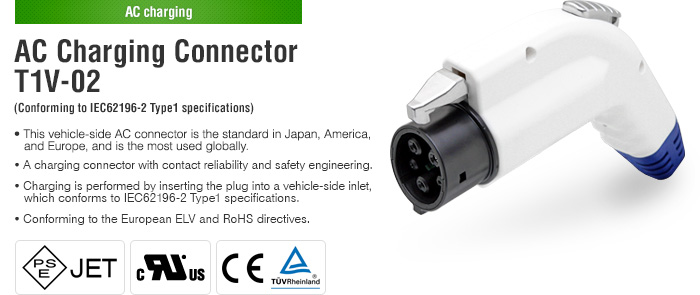 This model has finished production.
Special Features
Specifications
Names of Parts
Security Lock
A security lock function is provided to prevent theft during charging. View image
---
Use of the Metal Latch
A durable metal latch is used for the portion where a load is applied at the time of insertion and removal.
---
A Construction Preventing Leakage Current
Designed and constructed to prevent leakage currents even in the event of water intrusion.
---
10,000 Cycles of Insertion and Removal are Possible
Excellent durability makes use for a long period possible.
---
Crush-resistant Construction
The connector does not break even when driven over by a vehicle of up to 2tons.
---
Drop Impact Resistance
The connector will not break when dropped from a height of 1m.
| | |
| --- | --- |
| Rated voltage | 100 to 250V AC |
| Rated current | 20A (JPN/EU) |
| Cabtyre cable | POWER 2, GROUND 1, SIGNAL 1 |
| Ambient temperature | -40° to +60° |